Aircraft Simulator(Flight Training Equipment) is
A combination of Cockpit instrument that Is identical in appearance and function as the actual aircraft, a visual system with wide field of view for added realism, a motion system to provide ride quality identical to the actual flight, and a computer system that makes it all possible.
It has the benefits not available to the training with the actual aircraft, such as economic advantage, safety, environmental(noise, smoke) and also provide tactical training in case of emergency situation in a controlled environment and as such, there are increase in interest in simulator development and operation worldwide.
A few example for procedure and standard for evaluating Aircraft Simulator Qualification would be a manual by International Civil Aviation Organization(ICAO), and AC 120-40C, AC 120-63 by US Federal Aviation Administration(FAA). The simulator is classified by class A,B,C,D by their use, and the qualification suggests method of certifying/evaluating and the procedure and standard as well. Class D is the highest class given to the equipment that is almost identical to the actual aircraft.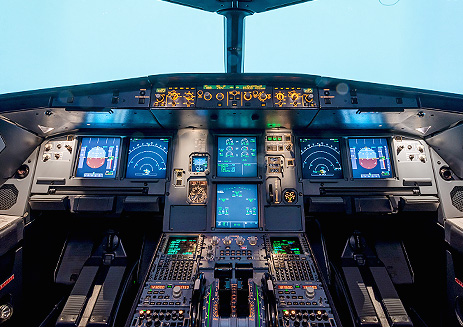 F-16 Simulator
C-130 Simulator
KT-1 Simulator
UH-60(Black Hawk) Simulator
T-50/FA-50 Simulator
KUH Simulator
P-3C Simulator
LAH Simulator
Simulator Night Vision

F-16 SIMULATOR
Anti-G panel

Anti-ice panel

AUX COMM panel

Avionics power panel

AVTR panel

CMDS control panel

ENG&JET start control panel

EPU control panel

Fuel control panel

Fuel Qty SEL panel

HUD control panel

Landing Gear control panel

Manual pitch panel

MISC panel

Plain chiper switch

SNSR power control panel

Stowage

Test switch panel

Zeroize

C-130 SIMULATOR
Engine Control Quadrant

Fire Emergency Control Panel

Flap Control Quadrant

Landing Gear panel

Main Instrument

Anti-Icing System Control Panel

Overhead fuel control panel

Side console panel

VHF COMM-NAV Radio Control Panel

KT-1 SIMULATOR
ECS Control Panel

IFF, SIF Control Panel

Landing gear panel

Left Console Switch Panel&Triple Trim Indicator

Oxygen regulator panel

Right Console Switch Panel

UHF Radio Control Panel

UH-60(Black Hawk) Simulator
ADF Panel

Blade deice panel

Blade deice test panel

CB panel

COMM control panel

Fuel boost pump control panel

IFF control panel

Mode SEL panel

Overhead panel

Radio retrans panel

UHF radio control panel

T-50/FA-50 SIMULATOR
AOA

VVI

CEBI(Display)

EFI(Display)

EHPD(Display)

Electrical Control Panel

ENG APS

Flight Control Panel

Intercom Control Panel

IUFCP

Magnetic Compass(Display)

SAI(Display)

SMFD(Display)

KUH SIMULATOR
UVHF AM-FM control panel

VHF FM control panel

P-3C SIMULATOR
Acoustic power control panel

AUX display panel

Console light control panel(TACCO)

DI-73K blue shark presetter

EOIR turret control

ESM band reject filter

FLDT DIM

CDU

HF radio control unit

ICS crew station unit

Laser interlock unit

Loudspeaker

NON acoustic PWR control

Overhead flood light control panel

TACCO release panel

UHF HPA control panel

Video switch panel

VUHF radio control unit

Zeroize CDU power panel

LAH SIMULATOR
AHRS

APMS

CMDS

CWP

DTU

ECP

FCP

HMD CP

HMD ICU

ICP

MWP

OSCP

RCU

SMFD

SIMULATOR Night Vision